I don't know about you, but I always find myself e-shopping on Thursday evening after a long work day.
This usually happens because I am reviewing all the reports that are due to my
clients
the following day and I need a little
chillax
time without actually leaving my workspace.
So what's a girl to do? Shop, of course!
These are a couple of things that I found quirky, fun and that I'm quite possibly two-steps away from ordering them:
Hanging mirror jewelry organizer from ECrater.com
I'm somewhat of a neat-freak and tend to hide things from plain sight. Unfortunately, having my jewelry stashed away makes it very hard to accessorize when I dress.
I have also found that whatever jewelry I display on my armoire ends up on the floor after my husband accidentally bumps into it.
Not wanting to find yet another piece that would take-up more space than I am willing to part with, this little gem (excuse the pun) seems to serve
two
purposes: mirror and storage.
I also love the fact that the length of the organizer will be long enough to hang my double-stranded, extra long necklaces (that I am a HUGE fan of!).
Genius I tell ya, Genius!!
Rotating Makeup Organizer from QVC.com
Going back to my hiding things from plain sight:
You might think that I don't have any make-up, when in reality I have an entire cabinet full of lipsticks, lip glosses, different hue's and brands of foundation, and my new found beauty obsession: eye color, eye liners, mascara.
Love it!
For now, everything is neatly organized in plastic containers with color coded covers. Which basically means that every day I have to go through this process:
Open the bathroom cabinet,
Pull out three, possibly four containers to go through: my every day box, extra concealer a box, lipstick box, etc., etc.,
Reorganize containers and clean/disinfect make-up (I told you I was a neat-freak!)
Stash everything back in it's original place.
If that little exercise doesn't give you a hint as to why I don't wear make-up daily, I don't know what will!
That being said, I have been looking - tirelessly - for a make-up organizer to take the place of my
Caboodle
make-up box that I had in the late 80's.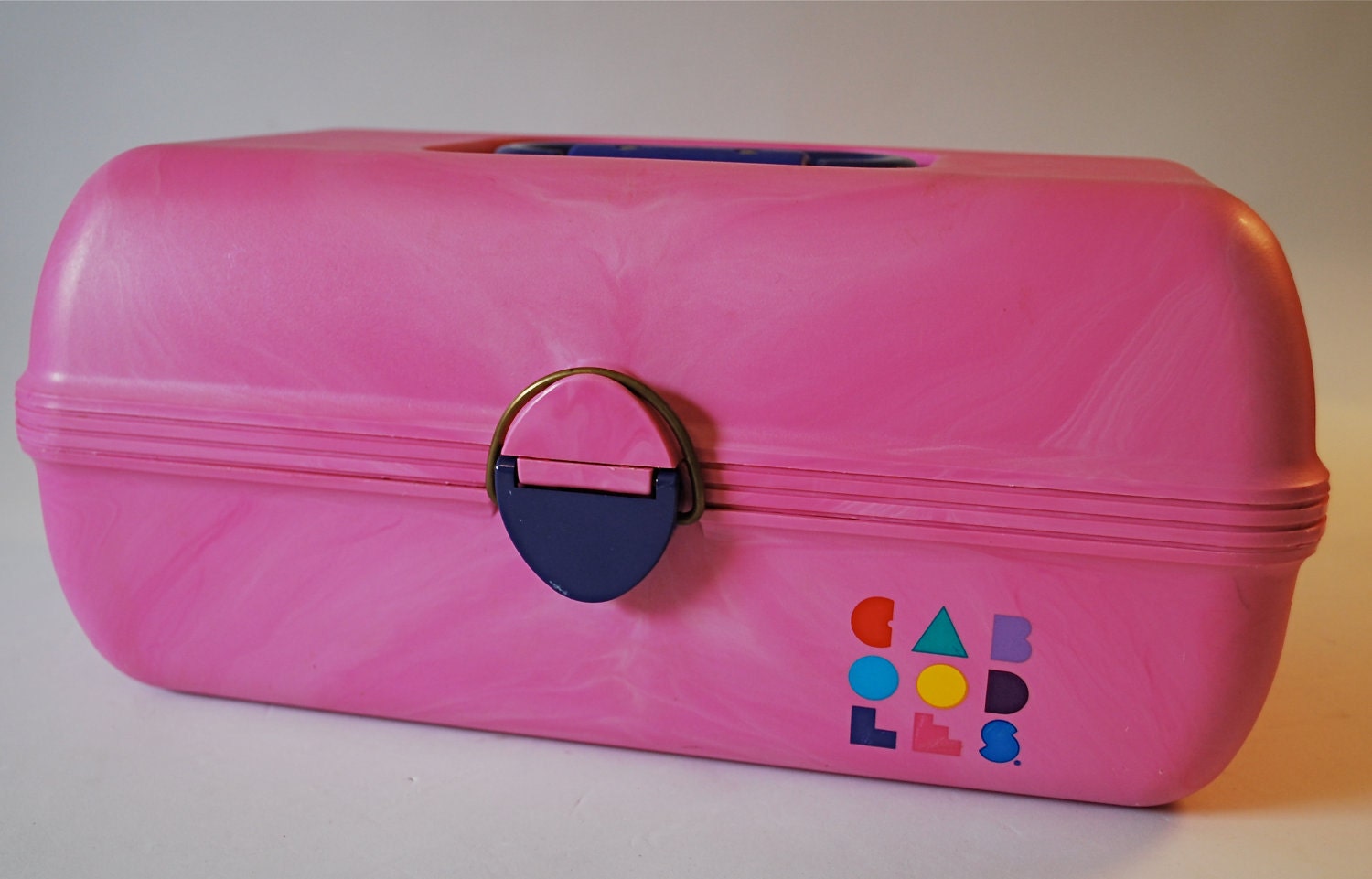 My Caboodle Makeup Box...
now being sold as "retro" beauty kit on Etsy?!
I hate to admit it - but I had that make-up kit all the way until five years ago. Tried to sell it at a yard sale - but no takers. So I donated my precious beauty icon (to many regrets) to
Goodwill
.
Any who, going back to my latest quest: finding a makeup organizer that would take little to no space, would display my makeup nicely, and would look cute while doing so.
And "by George I think I found it!!"
Not only is it white (I LOVE anything that brings back a classic yet retro feel), it's also small enough for my I-have-to-share-with-my-husband-vanity-space, and it rotates!
How clever, right?
Truthfully, I really wanted this one, but my visions of sitting around a vanity to get all dolled up doesn't match-up to my working 12-15 hour days.
Makeup Counter from Pottery Barn Teen
Oh well. One can only dream!